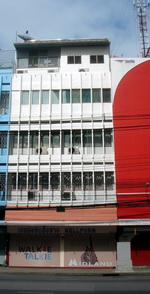 Traced back to 1976, the founder started importing audio products from Japan, Hong Kong, Singapore, Taiwan, Korea distributing to dealers throughout the kingdom.
In 1981 inspired by the first commercial wireless intercom, the new management started to market Conion wireless intercoms and had received wide response with high sale volume. It was the turning point for the company to enter into the market of communication transceivers. The first generation of wireless communication imported is IAJ wireless telephones for household use following by wireless car burglar alarms, paging system, Midland CB radios and the real professional transceivers Kenwood and Yaesu from Japan.
Today the company repersents different types of products in communication equipments including well-known brands such as Yaesu, Midland, Maldol, Comet, Daiwa, Antenna Specialist, Decibel etc. Products range from simple walkie-talkies to sophisticated repeater base stations. In 1981 the company was appointed authorized distributor from Yaesu Musen Co., Ltd., Japan to handle YAESU communication equipments. Since then Yaesu has become a familiar brand name in the Thai market. Midland 27 MHz CB radios have been using by Thai fishing boats for more than twenty years. Accessories like signal generator, dummy load, frequency counter and hundreds of others are available in our main shop.
With the ever-increasing diversified numbers of products handled plus the growing market as a result of the company's reputation in the line of communication, a new company Wellform HS1 Radio Co., Ltd. was established in 1986. Our main purpose is simple : to serve the best valued products to our clients.